By Grant Allen - Herald on Sunday
Sunday Apr 21, 2013
Lauraine Jacobs' new cookbook celebrates a lifetime in the industry, writes Grant Allen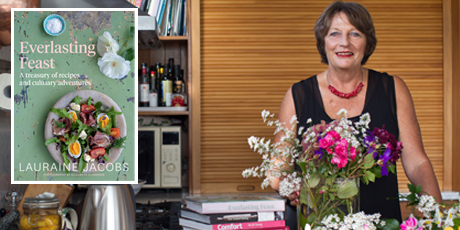 Lauraine Jacobs is a busy woman. She is a tireless mover and shaker in the food world, and is now releasing her 10th cookbook, Everlasting Feast.
The book recalls her 40 years in food - more a memoir than an autobiography. It threads together a lifetime of cooking, writing, teaching, advocating, eating and leading.
While taking the opportunity to reflect on everything she has experienced, the numerous food stars she has met and telling tales of her culinary adventures, do not think for a minute this is some kind of bow out.
Jacobs has her finger on the food pulse and has taken to all new forms of food writing without a second thought. She blogs, tweets, and her new book is also available in digital formats for Kindles and iPads.
I met Jacobs just before she left for San Francisco to attend the International Association of Culinary Professionals annual conference.
She was to dine with other former past presidents of the association, attend workshops, network with food writers and, of course, eat in the hottest restaurants in search of the latest food trends.
Jacobs the food professional and Jacobs the private person may be two different people. I have been hosted by her and her adoring husband Murray in their home, and it was one of the most charming and delicious dinner parties I have been invited to.
Her latest book has a gentle feel. The colour palette is apple green and dusty pink. It features garden flowers. It is pretty and a lovely book in all senses.
Discussing the food television and food book phenomenon with Jacobs, I discover her thoughts are that physical books will always survive.
They become more visual, tactile and beautiful. They are to be handled and collected, but maybe we will download favourite recipes onto our tablets and take this into the kitchen.
She cites her friend Fiona Nugent who is making it possible to search all your cookbooks through her website eatyourbooks.com
Jacobs' thoughts on cookbook writing:
• All recipes should have head notes (the story of
the recipe).
• Recipes should be succinct, not have an overly lengthy list of ingredients and should preferably have a photo.
• Food is to some extent indulgent and we need to celebrate eating. Source and acknowledge fine ingredients and let's not get too PC.
• We need more serious New Zealand "food writing" in the style of MK Fisher, Elizabeth David and Michael Pollan.
• While food TV projects "celebrities" into publishing, we have many fine people writing who are often overlooked.
Jacobs' thoughts on New Zealand publishing:
• NZ publishers are doing a fine job, produce some terrific books and often punch above their weight in regard to the volume of cookbook publishing in
a global sense.
• Self-publishing is fine, but you need an experienced publisher to produce, promote and distribute your book.
• There is no money to be made out of publishing a book; it's a labour of love.
Jacobs' thoughts on New Zealand food culture:
• Our proximity to the Pacific and Asia makes us unique in our location. We are an "immigrant" food culture, as is Australia and the US, and we should embrace this and its influence.
• We have the most amazing producers and talented artisan food makers -we need to recognise and celebrate them.
As we wrapped up our talk, Jacobs perceptively observed the influential cookbooks I had brought over for the photo shoot, sitting alongside hers on the table. They were quite different.
Mine were from the "old world" referencing France and Italy, while hers were more from the "new world"
of American food, an "immigrant food" culture. Is this busy woman onto it, while I'm stuck in some nostalgic past?