By James Ihaka - New Zealand Herald -Thursday June 13, 2013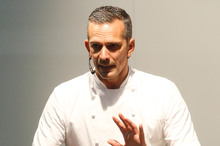 MasterChef judge and celebrity cook Josh Emett says the "right man" won the latest series of the New Zealand version of the popular television show - and lifted its cooking standards while doing so.
Emett, who worked alongside the fiery Gordon Ramsay as his executive chef in a stellar career that saw him based in London, New York and Melbourne, returned to his Waikato roots yesterday for Fieldays, where he is a star attraction.
While preparing a dish of quail and aubergines and marinated snapper with coriander, Emett said this year's MasterChef winner, Aaron Brunet of Raglan, was the clear victor.
"The right man won, didn't he?
"We liked Aaron, I liked Aaron, he was solid and didn't misbehave like some can when they're in the house - there's a lot of food and booze there.
"He was good under pressure, he just nailed it. He also raised the standard of the show. I think he did a sensational job."
Emett advised novice chefs to keep calm in the kitchen, to listen to their food - "if it's hissing and spitting it's angry" - and to think about cooking "for ladies and not big, burly blokes".
His visit to Fieldays was his first since he was a 6-year-old living at nearby Ngahinapouri. "We'd come out here and cut loose and it was bloody good."