Success: Venture adds spice to retirement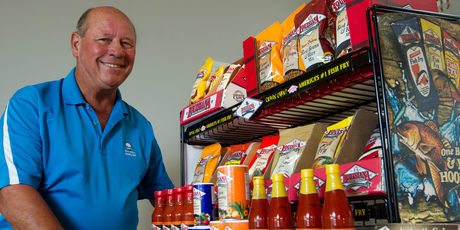 Retirement after more than three decades in the public service should be about kicking back and enjoying some well-earned downtime.
But Ralph Jaeger says he doesn't want to spend his retirement sitting in a chair waiting to die. And even though he is a golfer, Jaeger admits he couldn't stand playing every day.
Instead, the 70-year-old has put his energy into bringing the flavours of Cajun cooking to New Zealand dinner tables.
After researching the market, he found no one was bringing Cajun products into the country, so three years ago Jaeger began importing a range of authentic spice mixes and pre-packaged meals from a family-run business in Louisiana.
For Jaeger, a New Orleans native, it's the taste of his childhood and even after more than 40 years living in New Zealand his passion for the unique taste of Cajun cooking remains strong.
Jaeger's own chef-quality Cajun cooking has friends and family demanding he prepare gumbos, seafood jambalayas and fried chicken when they visit.
Even his three grandchildren are fans of his "special rice".
Jaeger says Cajun flavours are based on onion, celery and capsicum, with black, white and cayenne peppers added for seasoning, reflecting a mix of African, Native American and Frenc
h
cooking.
More