Posted: 29 Sep 2014 0- David Lebovitz
Many times, I've walked by Caractère de Cochon, a slip of a place on a side street, just next to the earnest

Marché des Enfants Rouges

, in the ever-growing hipper upper haut (upper) Marais, and wondered about the cave à jambons jam-packed with hams of all sorts hanging in the window and from the rafters. But I've never stepped inside.
But recently I was talking to my friend

Jennifer

, and she'd mentioned the place in glowing terms, letting me know it was, indeed, an amazing emporium dedicated to all-things-ham. So we made a date to go. However as (my) luck would have it, of course, on the day of our date, it was closed for a fermeture exceptionelle.
Which, in my case, seems to happen a lot.
This coming weekend I'll be at Treize…a baker's dozen, in Paris on Sunday, October 5th, from noon to 1pm.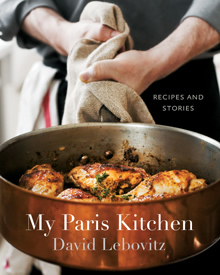 I'll be signing copies of

My Paris Kitchen

at one of the latest, and sweetest, cafés in Paris – Treize…a baker's dozen. Located in a gorgeous Left Bank courtyard,

Treize…a baker's dozen

, where owner and chef Laurel Sanderson charms locals and expats with her home-style cooking, much of it rooted in flavors from her native South Carolina. Yet blended with a French sensibility, and French ingredients.
The café serves lunch, brunch and le goûter (afternoon snack), and readers of My Paris Kitchen will be familiar with Laurel, as she inspired a story and recipe in My Paris Kitchen. I'm excited to be a guest in her café for this event.
There will be copies of

My Paris Kitchen

available, and you're welcome to bring previously purchased books as well. Looking forward to seeing you on Sunday!
[Note that there is a brunch from 1 to 4pm, which is sold-out. But this event is open to all from Noon to 1pm. If you'd like to RSVP to let them know you're coming, you can on the

Facebook Event

page.]