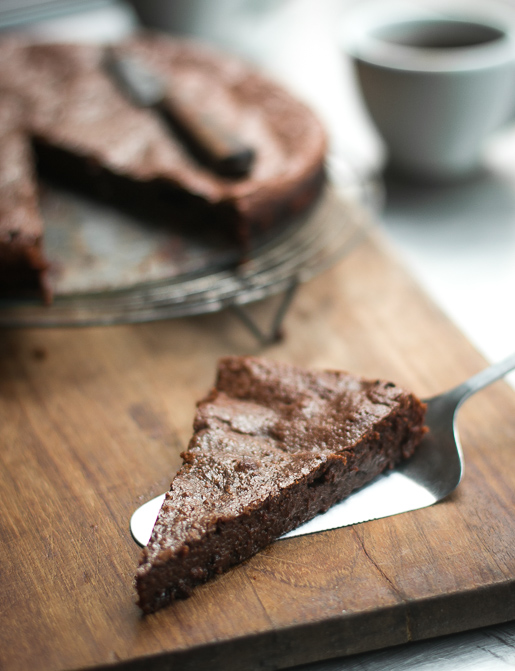 The French do a lot of baked goods very well. if you've been to Paris, you don't need me to tell you that with over 1300 bakeries in Paris, it's not hard to find a pastry or baked good on every block that will be more satisfying than you can imagine.
One of the rare baked goods that the French haven't quite mastered are les brownies. If you see them in bakeries and try one, you'll find they're often on the pas humid side. I'm not sure why, because they're simple to make, and don't require any special techniques: You just stir everything together, scape the batter into a pan, and bake them. The only astuce (cooking tip) is that it's important to watch them like a hawk, taking them out of the oven at the point where they're still going to be soft and crémeux à l'intérieur.
In August, we were visiting some friends who live on an organic farm in the Poitou-Charentes, and after dinner, Hélène, presented us with a large tart-like creation that looked like a big, flat chocolate cake that she'd baked up in between her other chores. I was told they were les brownies, but hers were different. In addition to a little bit of coconut that was added, which gave them a slightly elusive tropical flavor, they were moist and uber-chocolaty. I couldn't keep myself away from them.
The French don't usually snack with the same fervor that Americans do (Romain's father was once shocked to learn that I ate between meals), but I spend a good part of my day picking at any and all desserts that are within arm's reach. And when everyone else was out in the fields down on the farm, weeding and working on hedges, I stayed back in the house, reading in a comfy chair — and found myself circling back around and around the pan of brownies, cutting off une lichette (a sliver), to help myself.
Continue Reading

Helene's Brownies

...