By Grant Allen - Herald on Sunday
Sunday May 12, 2013 -
Grant Allen makes some whoopie in the kitchen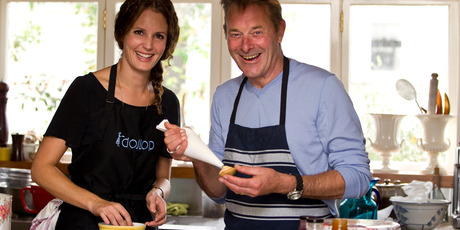 Julia Crownshaw tripped into my kitchen like Little Red Riding Hood, complete with full cake tins and a basket brimming with sweet treats.
She's tall and gorgeous and was here to show us some ideas for spoiling your mum today, Mother's Day.
Spying all these goodies, my partner took on the stance of the Big Bad Wolf, trying to entice some tempting morsels from our guest. He was sent back to his office until the photos were taken.
For the past two seasons, Julia has been a judge on the TV3 show New Zealand's Hottest Home Baker with Dean Brettschneider.
Before this, Julia, who trained as a food technologist, worked with various food companies developing commercial food products such as ice creams and chocolates.
On her return from living in London, Julia and friends perceived a gap in the New Zealand market. They set up a business called Dollop Puddings, making ready-to-eat gourmet chilled desserts and accompaniments.
Her business partner booked her in to audition as a judge for Hottest Home Baker. Julia arrived thinking she was there to chat and walked into a full screen test in front of eight people.
She'd been duped, but she got the job.
Julia's approach to baking is about having fun. Dean is the perfectionist on the show, Julia is more focused on fabulous flavours, tastes and textures. But her food science background gives her an inside knowledge of what will work and why things go wrong.
All cooking is about kitchen chemistry, to some extent. Successful baki
ng takes that to extremes and requires exact measurements, techniques and temperatures; precision is required. You can experiment with flavours but start mucking around with ingredient proportions and you are heading for a flop.
Julia did not train as a baker and this new role has seen her up-skill. She acknowledges she has learned a lot from Dean, a professional patissier, and is also picking up great tips and tricks from the contestants. And she is having fun.
Baking is a creative and challenging process. Julia sees this as a key motivation behind the show's contestants, they're not necessarily there for the prize. She also perceives a new interest in baking, particularly among young people and men. And what are we baking these days? The cupcake still has a firm hold and macarons are flourishing but watch out for a wave of whoopie pies.
Meringue-based concoctions and marshmallows are also on the comeback. Start practising these and you may be inspired to audition for the next season of Hottest Home Baker. Her business uses natural products, real fruit, genuine vanilla, free-range eggs, pure rose waters and good chocolate. She recommends this approach to the home baker.
If you make the show, wear flat shoes in the kitchen. Julia let slip that the boys (Dean and host Colin Mathura-Jeffree) give her a hard time when she is in heels - they worry she makes them look short. Here are some recipes from Julia that will make your mum's day.
Recipes:
• Plum and vanilla marshmallows
• Earl grey and salted caramel marshmallows
• Chocolate whoopie pies with berry compote creme
• Banana and caramel whoopie pies
• Raspberry and rosewater meringue kisses
• White chocolate cupcakes with lime and passionfruit curd and swiss meringue buttercream

•The new series of New Zealand's Hottest Home Baker begins this Thursday, May 16, at 7.30pm on TV3.
- Herald on Sunday