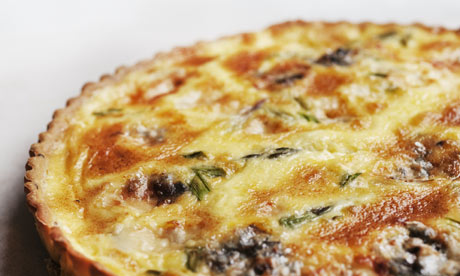 Lunch, at least at the weekend, has moved to the garden. To be more specific, it has moved from the kitchen table to one under a tree, where we can eat in the open air, but hidden from the glare of the sun.
For eating outdoors, I like the idea of a large serving plate of food rather than doing battle with trying to get individual plated portions from kitchen to garden. More than that, I like the idea of food passed around the table from person to person, with each taking only what they want. I appreciate the informality of a meal served this way. Hand the person next to you some food and there is an immediate sense of sharing.
There are very few plates in this house large enough to be declared a "serving dish". Maybe a couple that will hold enough food for six or eight, even though there are plenty of platters going for a song secondhand. But there are other possibilities, a tart the size of whole Brie, brought from the kitchen on its tin base, presented with a knife for each person to cut whatever they want. A cake served pass-the-parcel style, or, easiest of all, a huge bowl full of original and unusual fruit salad. All your friends can dip in as they wish.
The summer savoury tart is invariably a success for this type of meal: it can be cooked before friends arrive (the pastry can even be made the day before), it can be kept warm without coming to grief and any leftovers are great served cold the next day.
More