By Gill South - New Zealand Herald - Monday May 13, 2013
Business gets a surge of energy with the opening of a special new service - a separate private room.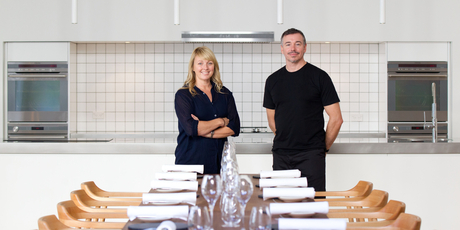 Last year, like a lot of other restaurant owners in Auckland, Creghan Molloy-Wright and Simon Wright at The French Cafe had to work hard just to tread water.
But in December, they had something new to talk about - the opening of a separate private party room they called The French Kitchen. And it's given the business a new surge of energy for 2013; something different for customers to try under the well-established French Cafe brand.
The couple, who have owned the restaurant for nearly 14 years, were careful to prepare customers for The French Kitchen in the space which was a warehouse behind Cheap-skates, now linked directly via a courtyard with The French Cafe. They had boards up behind The French Cafe with the teaser "The French Cafe is growing", and also informed their database of diners and corporate contacts.
The space has an Electrolux-equipped kitchen - Wright is Electrolux cooking ambassador - and the room accommodates parties from 10 to 30. Architect Katie Lockhart has created a New York loft-style light-filled room.
"Everybody is incredibly relaxed in The French Kitchen - they have their own space and don't have to be conscious of other diners," says Molloy-Wright, who runs front of house.
More