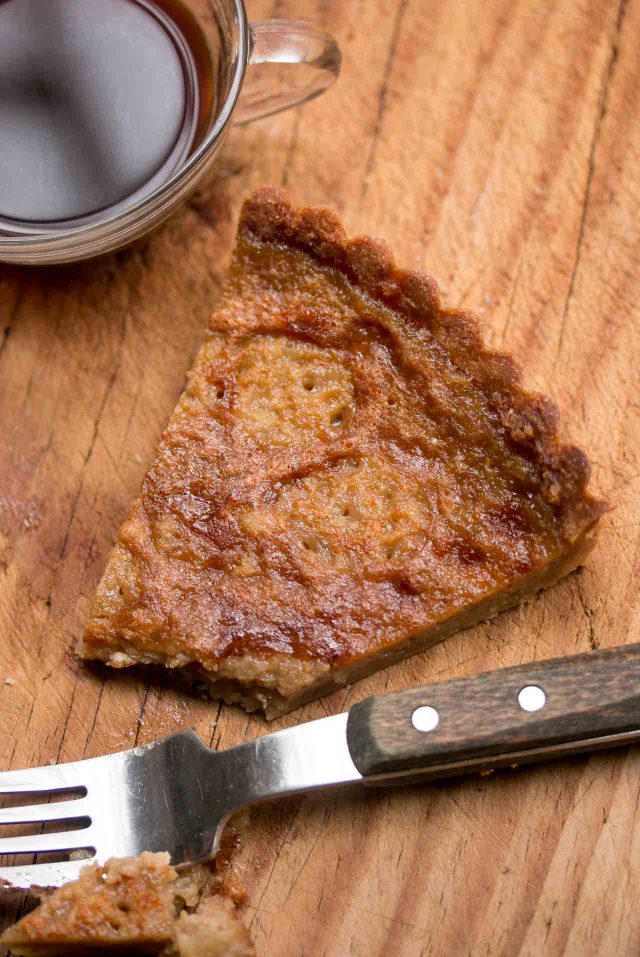 I was invited to a lovely lunch at the 3-star restaurant
Alléno Paris
(Pavillion Ledoyen), hosted by
Mauviel
, a French company that makes copper cookware in Normandy, that one day, I'm hoping to visit. Although mispronouncing the name when I was introduced to the owner probably didn't help my chances!
Nevertheless, I did my best in the charm department. (Foreigners are often given a pass with goofs in French, since even the French know how intricate their language is.) I did excel, however, in making my way through the meal – cleaning everything from my plate. My reward came at the end of the meal with post-modern
Pear, Vanilla and tonka bean
cake, then a copious plate of

mignardises

(lots of little cakes and candies) and then…

whew!

…out came a burnished amber tart, sliced precisely into six perfect wedges.
After I ate more than my share of them – no one at the table was tackling the sweets with the same fervor as I was…but the only problem with having to wear a suit just once or twice a year is that trying to pull the waistband closed is an uncomfortable indicator of how much you've been eating in the interim. I asked what the tart was, because it had a flavor that I couldn't quite pinpoint. They told me it was

tarte à la bière

.