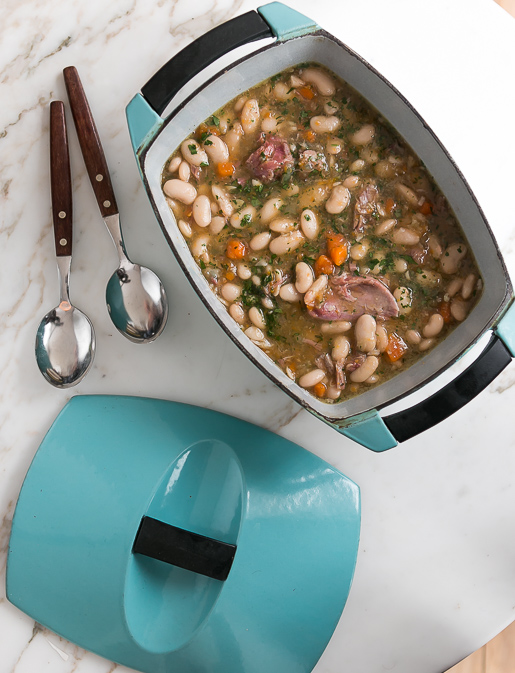 Cassoulet
was probably the first French dishes that really hooked me on French cuisine. I was working at

Chez Panisse

at the time and when the new Zinfandel wine was released, in a style similar to the annual release of Beaujolais nouveau in France, or the garlic festival on Bastille Day (called 14 juillet, in France – if you called it "Bastille Day," no one would know what you were talking about), the cooks would often make cassoulet. Because I was working and making dessert, I didn't have time to actually sit down and eat any – because customers don't really want to hear that their dessert is being held up because the pastry person is sitting down having dinner – I did get to take a spoon and scrape off, and eat, all the crusty, meaty, chewy bits that were stuck to the rims of the pans. Which, of course, are the best parts.
Making cassoulet is definitely a project. I know, because when I put the recipe in

My Paris Kitchen

, I made it at least a dozen times, testing all kinds of meats and beans, and playing around with cooking times. (And trying to explain – nicely – that once you've made cassoulet, that it's actually better réchauffé, or left to sit overnight, then reheated.)
And if you're going to make it, you make it in quantity, as it's not a dish you'll find in one of those "Cooking for One" or "Dinner in 5!" cookbooks. You need to gather the meats, fry up the sausages, prepare the beans, and cook the whole thing for several hours.