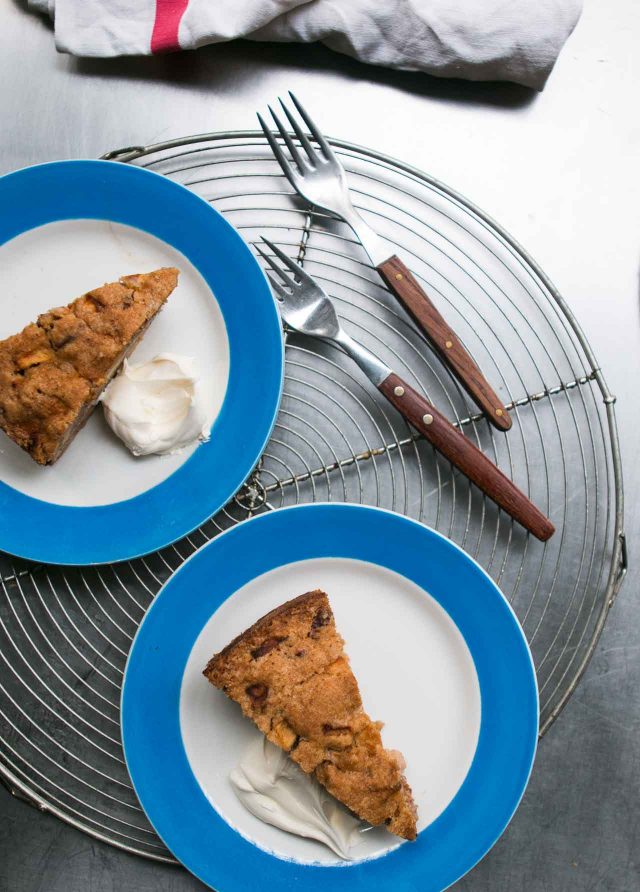 This season saw a particularly excellent crop of cookbooks come to the forefront. But one that stood out for me was

The London Cookbook

by Aleksandra Crapanzano. When my copy came in the mail, I opened up the stately, deep blue cover, which revealed enticing pages of spectacularly simple, fresh food, the kinds I like, that are being cooked in London today. Spiced Carrots with

Freekeh

and

Labneh

, Taktouka (harissa-spiced Berber vegetable stew), Ras el Hanout and Buttermilk Cake, and Burnt Orange Chocolate Sorbet, turn the image of British cooking upside down. Like most cultures, chefs, cooks, and bakers in London have adapted ingredients, flavors from other places and cuisines, incorporating them into theirs. And they've done it well. Still, there are Potted Shrimp, Roast Corn and Chorizo Chowder, Short Ribs with Chickpeas and Swiss Chard, Treacle-cured Pork Belly, and Ginger Spiced Steamed Puddings with Rum Syrup, in

The London Cookbook

, that hew closer to home.
I know from firsthand experience that London restaurants and bakeries have revised what we think of British food, and Aleksandra's book isn't just a collection of recipes, but one of those books that you'll want to sit down and read (like I did), for the colorful stories that take you into London kitchens, behind the scenes of the food revolution there, with photos that will make you bookmark many of the recipes as you go, as I have.
I liked the book so much that I asked Aleksandra if she would share a story and recipe from the book. Aleksandra grew up in Europe, spending time in Paris with her family. This Apple Calvados Cake stood out in the book as something that encompasses a slice of Britain, with a taste of Normandy. I hope you enjoy meeting Aleksandra through her story, and this Apple Calvados Cake, which is resolutely English, but infused with the flavor of France.

– David
A Whiff of Calvados by Aleksandra Crapanzano
It was in Paris that I learned to shop. Or should I say, I learned to respect the art of shopping, as my allowance only went so far. I was only ten when we moved to Paris, but, even then, I loved to peer into the shop windows. The bottles of vintage Calvados and Armagnac in the window of

Maison Ryst Dupeyron

on the rue du Bac held a special allure. If I put my face to the glass, I could make out the wood-paneled walls, the warm glow of the lamps, the wood desk with its leather ledger. One day, my parents took me inside. It was glorious. A serious place. A place of history. Bottles dating back a hundred or more years. The

propriétaire

offered my parents a taste of

Calvados

, as they were choosing a bottle. My father held his glass out to me to sniff. The beautiful, haunting smell was fiery with only a whisper of apple to temper the flame. It was heady. It was grown-up. I fell in love.