Steps away from where passengers disembark the Eurostar trains from London lies one of the city's hippest neighbourhoods, full of exciting new restaurants, bars and shops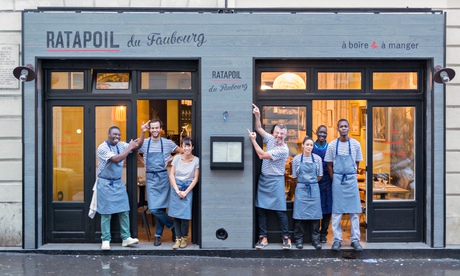 Tuesday marked the 20-year anniversary of the Eurostar service, which has ferried more than 145 million passengers between London, Paris and Brussels. The French capital has changed immensely in the past two decades, with several down-at-heel areas being reinvented as hip neighbourhoods full of exciting new bars and shops.
The latest hotspot is in a micro quartier right near Gare du Nord, home of Paris's Eurostar terminal. This formerly nondescript 'hood, wedged between the international station and the Marais, covering the streets between Cadet and Château d'Eau metro stations, has long threatened hipness thanks to cheap rents and an influx of creative types. But a recent gastro glut has sealed the deal.
Ratapoil du Faubourg and Le 52 Faubourg Saint-Denis (52 rue du Faubourg-Saint-Denis, no website), two of the city's most raved-about new bistros, opened there this year. Ratapoil serves filling but creative fare and an already-legendary salted-caramel pudding, while Le 52, is the third "neo-bistrot" by chef Charles Compagnon. It reproduces the winning formula of his other ventures, L'Office and Le Richer, with all-day opening, exposed brickwork and bold plates such as pork belly with chorizo and potato pressé.
More
• Guide to Paris Gare du Nord: where to stay, eat and drink