The weather is at last getting warmer in Auckland as the end of the year approaches, the garden is flourishing and full of promise. It will be some months before apples and pears and tomatoes are ready for bottling, so in this newsletter I'm drawing attention to a few festive recipes suitable for the season. They are from my new book 'Ladies, a Plate: Jams and Preserves' which has chapters on jams and fruit curds; jellies and fruit cheeses; marmalades and mincemeat; chutneys; pickles and relishes; savoury sauces; bottled, spiced and brandied fruit; and fruit cordials and liqueurs. Fruit liqueurs are pretty to look at and taste wonderful but they do take some time to make, so I've included a recipe for a traditional French liqueur which is not in the book and takes only 44 days to make. You can have some ready for Christmas if you start soon!
I enjoyed the following comment about a British book on preserves: 'This is porn for women who like to bake and make jams and preserves. They read it late into the night. It's happening all around you. Don't think you are better than this. Resistance is futile. . . ' So why not face the inevitable and start making preserves! All the recipes below make excellent gifts.
New Recipes
| | |
| --- | --- |
| | All my old cook books abound in recipes for jams and preserves made with rhubarb since rhubarb plants were once found in most New Zealand gardens, usually flourishing somewhere near the compost heap - rhubarb is partial to a good feed. |
| | Less well-known than jams or jellies, fruit curds are specialty preserves for special occasions. We all know about lemon curd, a luxurious blend of eggs, sugar, butter and lemon juice, but I've recently discovered the delights of curd made with other pureed fruit |
| | In New Zealand the names Mustard Pickle, Mixed Pickle, Piccalilli, or Chow Chow seem to be used interchangeably, although Chow Chow is a nineteenth-century American name for a thickened, sweetened mustard pickle |
| | A friend recently told me this memorable recipe for a traditional home made orange liqueur which she was given in southern France. It has rapidly become a favourite, but it does take 44 days to make, so check your calendar for a special occasion 44 days away and start now! |
You can buy signed copies of the Jams and Preserves book through my website and I've added another book to the shop – 'Ladies, a Plate: The Collection', the de luxe hard cover version of my two baking books. It makes a lovely present.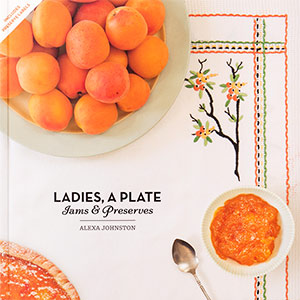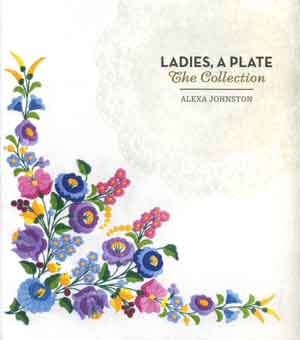 I will send out a newsletter in early December with some Christmas recipes for last-minute inspiration. In the meantime here are some of the biscuits I recently made for Taste magazine. The iced gingerbread is from the Ladies, a Plate recipe, but the springerle is a new passion for me. Traditional specialties of Bavaria and the Alsace region of France, springerle date back at least to the seventeenth century. They are slightly soft anise-flavoured biscuits made using intricately carved biscuit moulds. If you are interested in springerle look at this website: www.houseonthehill.net where you will find replica moulds, recipes and videos. This biscuit shows one of the Twelve Days of Christmas – Four Calling Birds, looking very musical. . .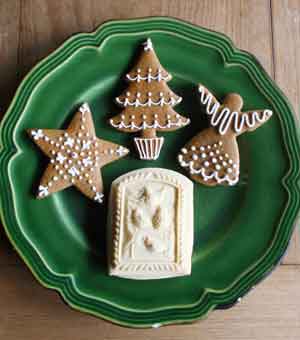 Until next time
Happy preserving!