TV cook and Bake Off judges lead list of seasonal offerings expected to sell well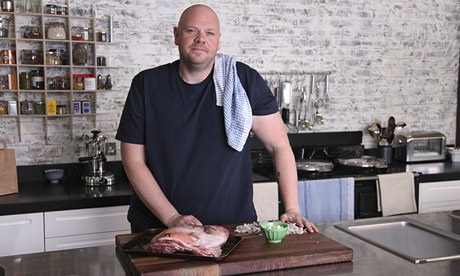 As presents they are as predictable as socks and a satsuma, but there is no sign that the British appetite for cookbooks is waning.
Books by Nigel Slater, Jamie Oliver and tie-ins to the Great British Bake Off TV series are most likely to be found nestling under the Christmas tree. Waterstone's and Foyles are tipping Nigel Slater's Eat to be their biggest-selling cookbook of the season. Bound in a hessian cover, Eat is already "doing incredible business", says Jasper Sutcliffe, head of buying at Foyles. Also vying for the top spot is Tom Kerridge's Proper Pub Food, a no-nonsense collection of old-fashioned favourites, also boosted by TV exposure.
The mother of all TV tie-ins is The Great British Bake Off: Everyday by Linda Collister, already riding high in the bestseller lists. Bake Off presenter Paul Hollywood's book – offering rosemary suet pudding and spiced plum pizza – is also expected to do well, as is co-presenter Mary Berry's Christmas Collection. Those dismayed by all that butter and sugar could turn to cupcake entrepreneur Lorraine Pascale's book of low-fat treats – A Lighter Way to Bake: booksellers are expecting this to sell like proverbial hot cakes. "People are mad about baking," said Richard Ehrlich, chairman of the Guild of Food Writers.
Another striking trend was the number of successful cookbooks with a travel element, he said. Fuelling the wanderlust will be Rachel Khoo's The Little French Kitchen, in which the young pastry chef tours France in search of traditional recipes. London street chefs James and Thom Elliot travel the length of Italy in search of the perfect pizza and pasta in Pizza Pilgrims. Sally Butcher's book of Middle East street food, Snackistan, is also expected to be a hit.
While street food has captured the zeitgeist, Heston Blumenthal has cooked up a banquet. In Historic Heston, the chef who made his name with snail porridge trawls through 600 years of recipe books, offering his own take on meat fruit (1500), quaking pudding (1660) and Mock Turtle soup (1892). With a recommended retail price of £125, and a list of esoteric implements such as a sous vide sealing machine that removes the air from plastic bags, some doubt whether it can deliver a return on the author's advance. "It is on the pricey side, but it is a lovely book and will still do very well," says Jon Howell at Waterstone's.