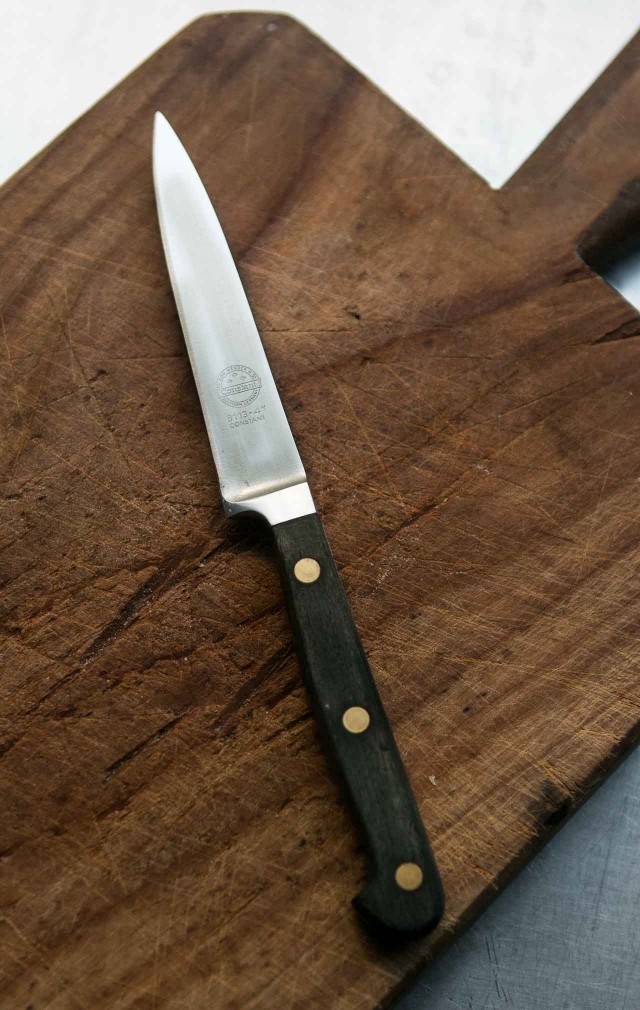 I've gone through several kitchens in my life, lots of pots and pans, various mixers, food processors, blenders and even a number of espresso machines.

Kitchen scales

? I've tried them all. But my one constant is my knives. No matter where I go, or where I move to, my knives come with me. I bought my favorite paring knife back in the early 1980's and it's still the most cherished item in my batterie de cuisine.
When I started my career as a cook I was told I needed to have two knives: a chef's knife and a paring knife. Being new to San Francisco, I only knew about

Whole Earth Access

(now there's a blast from our past, Bay Area folks…) but was told by the people I worked with in restaurant kitchens to go to

Columbus Cutlery

, in San Francisco's North Beach neighborhood.
A tiny square of a store, walking into the shop for the first time, I found myself surrounded by walls of knives of all kinds: Bread knives, vegetable turning knives, chef's knives, mezzalunas, boning knives (which restaurant cooks, whose humor would embarrass a 12-year old, always call "boners," ie: "Can I use your boner?" – and even though it's about as funny as "Whole Paycheck" now is, we still say it…), cheese knives, oyster openers, chestnut knives, meat cleavers, and even sewing scissors and nail clippers.
This was in the era when Japanese knives weren't as prominent as they are today. If you wanted a cleaver, you went to Chinatown. And being a restaurant cook didn't have the same cache as it does today. So Columbus Cutlery was sort of an "insiders" place. Sure, everyone could go there, but it was the only place professional cooks went. I didn't have either a chef's or a paring knife, so went into the store. The small, friendly old woman at the counter took care of customers and her husband sat behind a sharpening wheel that you could hear spinning in the back.
When you came to pick up your knifes if you dropped them off to be sharpened, they would be ready for you, tightly wrapped in butcher paper, taped closed, gleaming and razor-sharp when you opened them. I don't remember the couple's names but when I was looking them up recently, they were only referred to as an "immigrant couple." Considering the neighborhood, I'm sure they were Italian. (The other bonus of going to their shop was getting a

Sacripantina

at the nearby Stella Italian bakery.)