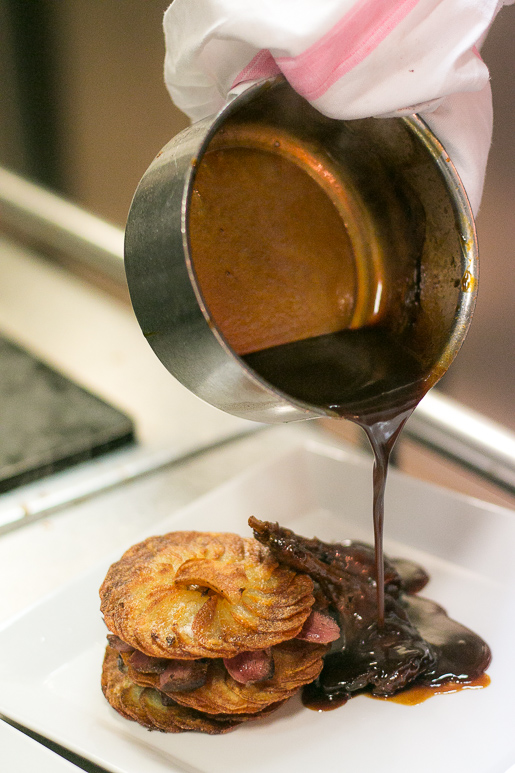 One of my downfalls is that I do not have a photographic memory. Sometimes I go out to eat and the next day, I have less of a recollection of what I ate (and drank) than some of my esteemed colleagues who write about restaurants so eloquently do. (My memory is gradually been replaced by the camera on my phone.) In this case, as soon as I got home, I wrote up some notes from the meal and quotes from the chef, which some rather concerted efforts to find on my computer failed to turn up.
That said, all the meals that I've had at Chez Dumonet, a spot-on classic Parisian bistro, have been memorable – regardless of the evolving ways that I have of preserving them. The memories last long after that feeling of being absolutely stuffed have diminished — the next few days after a meal here are invariably "salad days."
Fortunately, not much changes at Chez Dumonet, which is sometimes still affectionately called Joséphine. For those who want a place that is carrying on the traditions of the Parisian bistro, you can't do better than Chez Dumonet. The only concessions they've made to modern times (and waistlines) are offering half-portions of certain dishes, which are massive enough to make you wish le doggy bag was more popular in Paris. (I, personally, do not mind rewarmed bœuf bourguignon the next day for lunch.)
Chef/owner Jean-Christian Dumonet kept the nickname Joséphine, which people continue to use, the name of the beloved restaurant that he took well over a decade ago. He told me that it was previously a

bougnat

, a place that sold heating coal, as well as acting as a neighborhood café.
It's evolved to what it is today. And judging from the packed dining room at lunch, with the cooks working like madmen in the kitchen and diners of all ages crowded into the dining room, it doesn't seem like it's going to be changing to anything else in the near future.
You could start with a few slabs of the meaty housemade terrine, but I usually go with the herring, which comes to the table in a large earthenware dish, the neatly fileted fish marinating (or swimming) in a generous pool of olive oil, with bay leaves and thyme.
It's a "help yourself" kind of dish. But it's best not to overdo it because the main courses that are coming up will fill any holes in your appetite.
Although I was eyeing the pigeon with crisp potato cakes that the chef was turning out in the kitchen, I have a very hard time ordering anything else at Chez Dumonet, other than the exceptional duck confit. It is – and probably always will be – the best version in Paris.