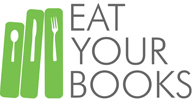 September, 2015

Dear BookmanBeattie,

We're delighted to announce another milestone at EYB: 1.25 million indexed recipes! In addition, we have another complete author index featuring the recipes of David Tanis.

If you've been disappointed in the volume of new cookbook releases, this month's new books should cheer you up with several well-known authors and plenty of diversity in subjects. September also features sensational baking recipes, your favorite lists, giveaways and excerpts, and a cookbook that is selling for a good cause.

The team at EatYourBooks
1.25 million recipes indexed!
| | |
| --- | --- |
| | We've recently reached another milestone on EYB as we have surpassed our 1,250,000th indexed recipe (to be specific, 1,264,193 as of press time). The numbers keep adding up, and soon we will reach 6,000 indexed books. It's never been a better time to be a cookbook addict. |
Complete author index - David Tanis
We are pleased to announce a complete recipe index for David Tanis, including his cookbooks and his New York Times recipes. Tanis is the acclaimed author of A Platter of Figs and Other Recipes, chosen as one of the 50 best cookbooks ever by the Guardian/Observer, and Heart of the Artichoke and Other Kitchen Journeys, nominated for a James Beard Award. He has had a longtime association with Alice Waters at Chez Panisse in Berkeley, California, and he has been featured in many magazines including Saveur and Gourmet. Known for his simple, seasonal, straightforward style, Tanis is a passionate fan of home cooking.
Cooking together with Heidi Swanson